digital pop up
the first of its kind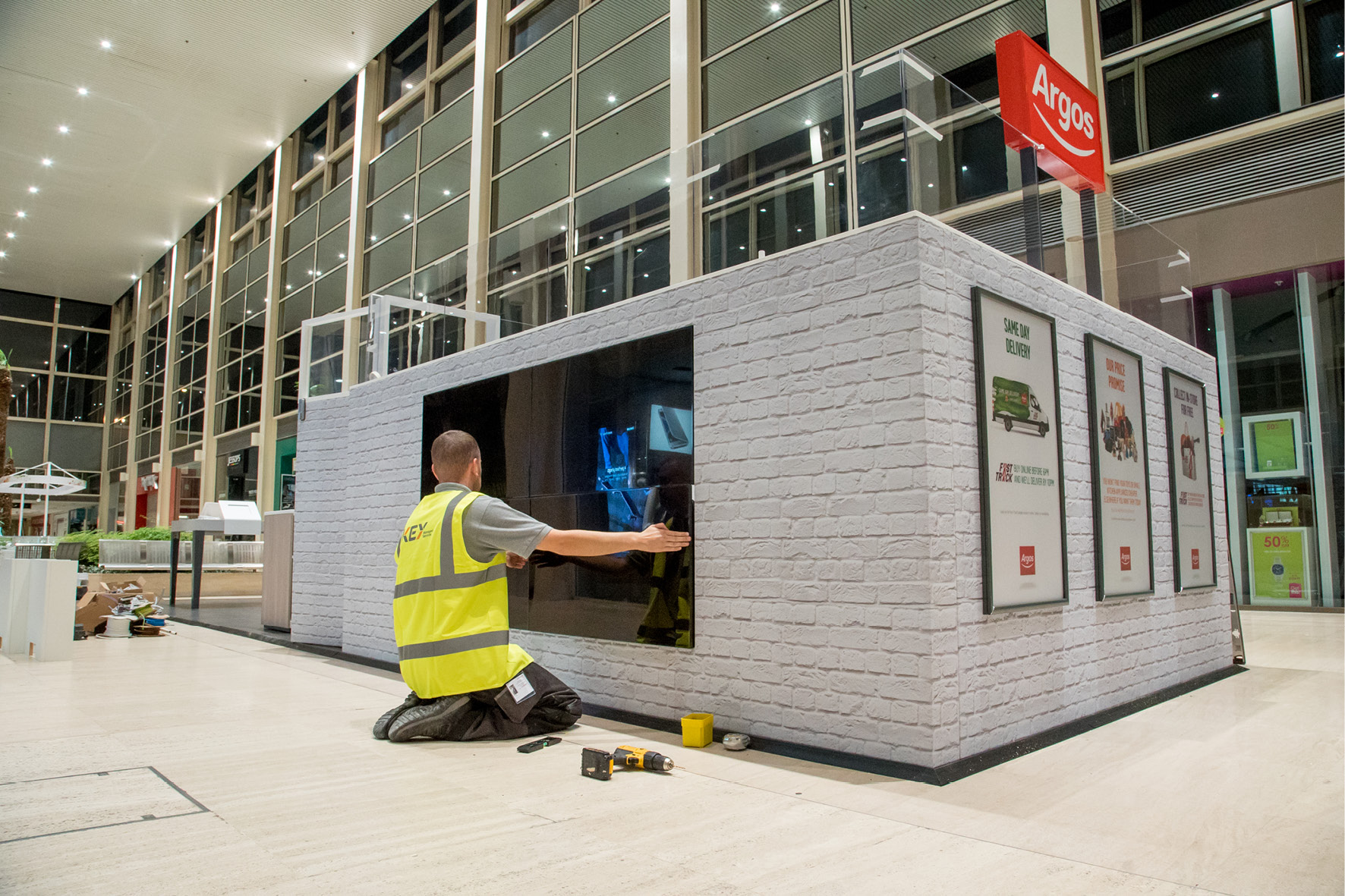 kms//argos
In September 2016 Sainsbury's acquired Argos in a move that now places them as one of the UK's leading food and non-food retailers with over 837 Argos stores (including concessions). Sainsbury's expansion plans include transforming 60 existing Argos stores to the new digital format and opening up to 250 new digital stores within the Sainsbury's estate.
KMS have a longstanding partnership with Argos working closely as their trusted Digital Signage and Technology partner on a number of projects, including their 'Stores of the Future' refurbishments.
Brief
KMS were approached by Argos to support them with the construction and installation of the innovative digital pop-up store as Principle Contractors, the first of its kind for Argos. A prominent location at Centre:MK, Milton Keynes was chosen to offer maximum engagement with thousands of passing customers on a daily basis.
The pop-up needed to convey Argos' focus on a digital future whilst heightening customer experience and convenience over the 12-week Christmas period to encourage walk-on customers and interaction with digital browsers.
Project
As Principle Contractors on the build KMS liaised, co-ordinated and managed all suppliers involved, whilst our expertise as Digital Signage Integrators were also employed on the build itself. Installing a total of nine 46" digital displays, including a 2x2 video wall, three edge-lit lightboxes and six digital browsers with access to the full Argos catalogue.
The 10m x 3m space provided a unique opportunity to communicate and engage with customers. Creative content played through the displays, video wall and static images on the lightboxes were able to inform customers of the latest promotions and provide key messages, achieving improved brand awareness through digitally displaying content and a strategic location of a high footfall shopping centre.
The full construction of the pop-up store was completed within less than 48 hours over a weekend, ready for business on the Monday morning. The popularity of the pop-up store saw it surpassing the sales of a standard store during peak times, which led to extended trading by over four months.
"This was a completely innovative format for Argos, and partnering with Kms europe contributed enormously to its success. The end to end services they provided, from development of the design through to installation and maintenance gave us confidence in the store and its potential to exceed customers' expectations. We were made to feel a key part of the project and were kept up to date throughout the project, knowing we could always get in touch and be treated professionally."
Will Burton
Operations Development Manager - Sainsbury's Argos Ltd